Amphora Syrah 2017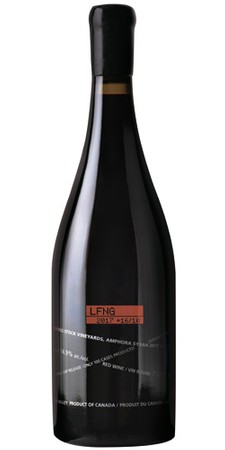 wine profile
This Small Cap release of only 100 cases, is a tribute to how wine was made in ancient times. Using a hands-off winemaking approach, this is our 5th year of working with the two 500L terracotta clay Amphorae. The result is a wine that challenges you to define it to a specific region or style.
This beautiful deep blue-violet coloured wine has vibrant aromas of anise and ripe mixed berries. The palate is silky with raspberry, baking spices, and warm mocha. This would pair beautifully with warm spiced nuts, charcuterie, or a main of North African lamb with spices of cinnamon and nutmeg.
INSIDER TIP: Originally used in ancient Greek & Roman days, this approach embodies the artisan desire to make wines more naturally with wild ferments and minimal intervention. For more information on the Amphorae, click here.
Winemaking notes
The 2017 Amphora Syrah project is in its second year. This year the blend it 91% Syrah and 9% Viognier. For 2017 we placed Syrah grapes in our two 500L terracotta amphorae and left them fully untouched for 8 months. After 10 days, the natural wild ferment began at a low temperature and slowing progressed for 5 weeks. This hands-off approach resulted in slower extraction from the grape skins, while the tannin works as a natural antioxidant to the wine.
Part of the experience of working with Amphorae has been to explore the boundaries of winemaking and each year David has left the wine 'on the skins'. In past vintages the Viognier Roussanne has been left on skin progressively longer starting with 5 weeks and in 2013 ending with 5.5 months on the third vintage. The switch to Syrah for 2016 extended that further to 8 months. The wine was then pressed off using a basket press, bottled and hand waxed.
Vintage Notes
The 2017 brought some wild weather. One of the coldest winters we've experienced in years gave way to a cool, wet spring. Although there was flooding in the Okanagan, it was followed by 54 straight days with no rain. The hot dry summer allowed fruit development to catch up from its late start and created smaller more concentrated grapes. Fall weather cooled down quickly, but we were able to bring in our fruit prior to any risk of frost. Overall, expect ripeness and weight to the wines, while still retaining bright fruit flavours.
Vineyard
100% Estate fruit from our Perfect Hedge Vineyard on East Bench Osoyoos.
newswire
BC winery explores natural winemaking
Wine Specs
Appellation
Okanagan Valley
Harvest Date
September 26, 2016
Aging
8 months on the skins in clay terracotta Amphorae
Fermentation
Natural fermentation over 5 weeks